Before they head of to the prestigious showcase festival South by Southwest Marigold continues their latest success (the EP "Och så kom regnet") with the release if a single – "Allt kommer bli bra" (translated: "Everything is going to be alright") depicts the way in which things have a tendency of resolving themselves, even if it might not seem that way in the beginning.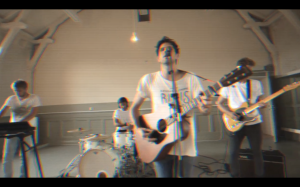 For almost three years we heard nothing but whispers from the Borlänge-based band. In December 2013, Marigold finally released the EP "Och Så Kom Regnet". An EP that was well-received by Swedish blogs and Internet publications.
In "Allt kommer bli bra", a song that is  in the most part written in English – though the title and may have you believe otherwise, songwriter Daniel Wallsten (singer in Marigold) has derived inspiration from the late sixties era, Fleetwood Mac and Top Gun. The upcoming album "Allt kommer bli bra" serves subjects such as values, strive, future optimism, love and nostalgia. "The single puts into words what the whole album, in a more abstract way, is meant to communicate. The single strongly relates to all of those subjects", says Daniel Wallsten.
To accompany the single, a conceptual music video will be released. Daniel Wallsten summarizes the thoughts behind the video in the following way: "In the video, we move away from the modern or even postmodern society and begin an abstract journey back to our childhood, where our primary values were formed."
"Allt kommer bli bra" is to be released on the 26th of February on the cloud-based record label Music Kickup. The video is to be premiered at Gaffa.se.